"No Thanks. Please Close This Box!"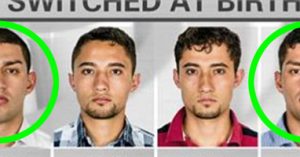 Can you imagine living your entire life with a brother or sister, only to find out that they were in fact, NOT your sibling? Just how the heck is that possible? And how would you react? As disturbing as this scenario sounds, it only gets stranger for two families. Two sets of twins recently discovered that over 20 years ago, two of them had been switched at birth. One brother from each set wound up going up with the wrong family.

Whoops. In the following video, we get to see these two sets of identical twins meet for the very first time. Sadly, bother of their mothers had already passed before this shocking discovery.